Our head chef personally sets off for local farms and the port to carefully select ingredients to be used in meals at Okukinosaki Seaside Hotel, including seafood from the Japan Sea, mountain food from Tamba, and organic vegetables, rice, eggs, tofu, konnyaku.

Our hotel is close to the coast where a number of major Japan Sea ports are located. We buy in fresh seasonal seafood everyday from the port next door. If you are looking for great seafood, our hotel is the place to visit to get your fill of the finest flavors as served by us.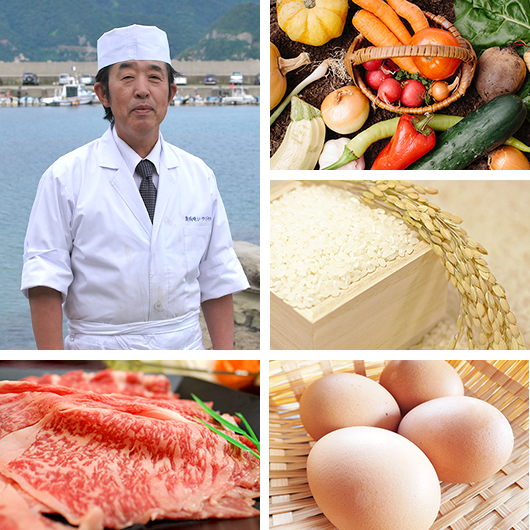 No other crab is as popular among the Japanese as the snow crab.
It is familiarly known as the Matsuba crab in the areas west of Kyoto, and Echizen crab in Fukui Prefecture.Our highest recommendation, Tsuiyama crab is also a kind of Matsuba crab that has a delicate texture and irresistible flavor.Tsuiyama crab is a premium brand reserved for crabs landed at Tsuiyama Port in Hyogo Prefecture.
By the way, did you know that the fishing ground has a big impact on the quality of crab?
The Tsuiyama crab's fishing ground is the same as that of the Taiza crab, which has become very famous. Tsuiyama crabs are caught in the west side of the fishing ground and landed at the Tsuiyama Port, Tajima, Hyogo Prefecture.
Don't miss the chance to try Tsuiyama crab dispatched to us by the fishing ground and fishing association under their strict supervision and with pride in maintaining the quality of Tsuiyama products.

Long and widely known for its excellent pedigree, Tajima beef has been enhanced through closed breeding in the fertile natural land of Tajima.
Tajima calves are sent to other regions to be raised as brand beef of the respective region.
Tajima cattle have become famous as the origin of other premium beef brands, but Tajima beef refers only to cattle carefully raised to maturity in Tajima.
The harsh natural environment of Tajima produces the exquisite balance of nice tight meat and fine fat.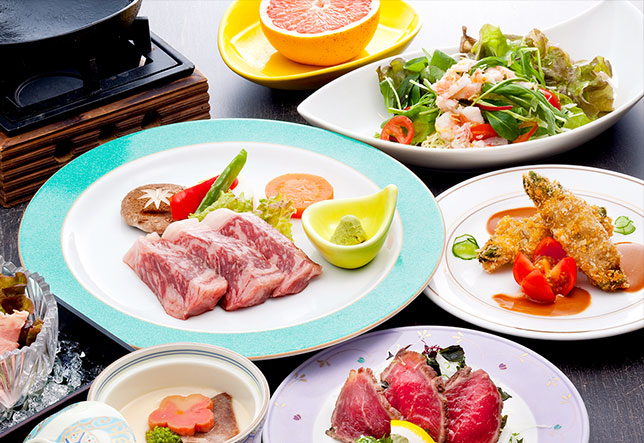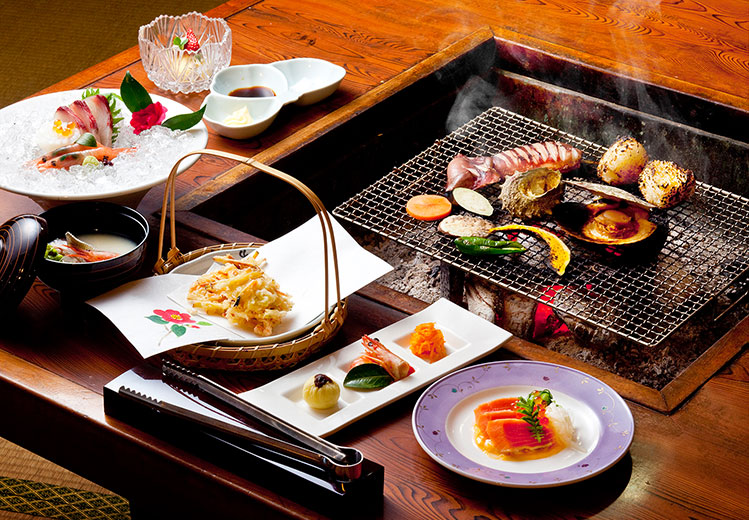 Enjoy char-grilled fresh seafood sent directly from Takeno Port.
Bite in to freshly grilled meat and feel the blessings of the ocean as the ocean aromas gently fill your mouth.
Enjoy fresh seasonal seafood and vegetables cooked before your eyes in a venue cast in the image of the wooden cargo vessels widely used in the late Edo period.
Sashimi and tempura are prepared and cooked right in front of your eyes, so you can enjoy them absolutely fresh and piping hot.
Enjoy the lavishness of sashimi skillfully prepared by the chef in front of you in a speedy and efficient manner using ingredients he has carefully selected himself.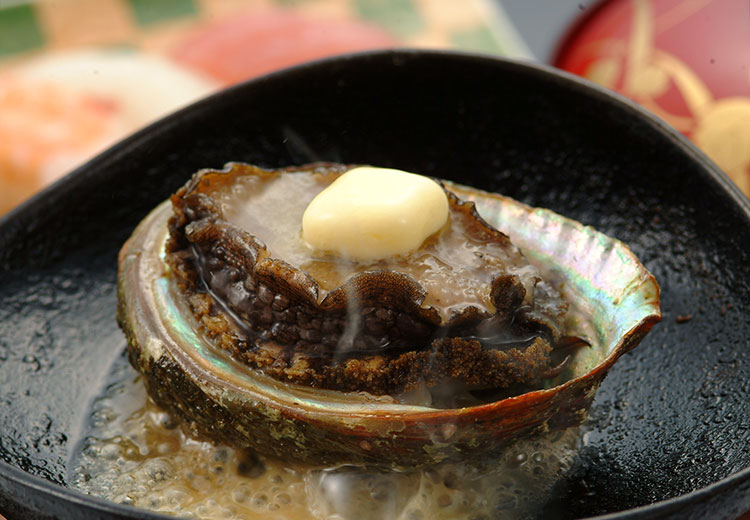 The king of shellfish, abalone or "Awabi". Everyone will agree the abalone raised in the Japan Sea is top-class for its taste and texture which is imparted as the rough waves tighten its meat.
Butter sauteed abalone on a ceramic plate with the natural juices and flavor of the ocean is recommended besides sashimi.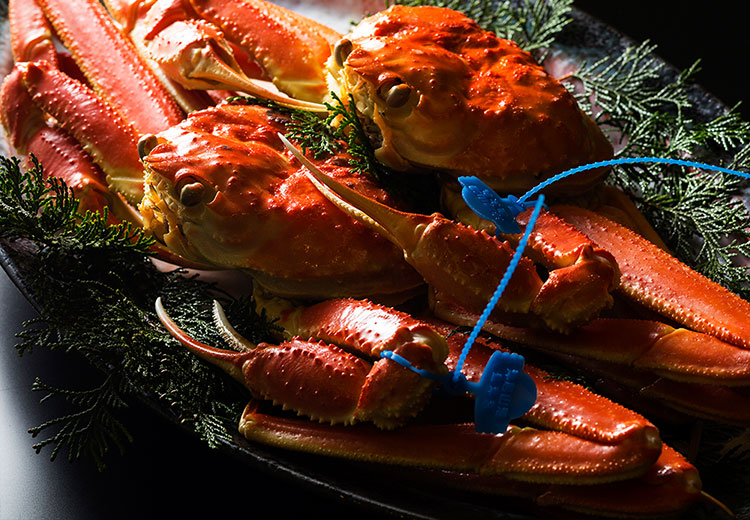 Enjoy tasting famous brand crab like Tsuiyama crab and Matsuba crab from Kasumi either boiled, grilled or raw.
Our homemade crab sushi is also highly rated!! Made with genuine Kasumi crab and 100% local rice.
Our homemade pride and joy with undisputed volume and taste.

Release body and soul while soaking in the warm water of the open-air bath with its night views of fishing lights; or in the large bath with its changing seasonal aspects and natural warmth of the trees; or again, in the private bath with its sense of liberation and soft light.
Bathing time

5:00 to 10:00 / 15:00 to 23:30
Spring quality

Spring quality is sodium-chloride spring with weak radioactivity (sodium, calcium), high tonicity
Beneficial effects

Neuralgia, arthralgia, frozen shoulder, sensitivity to cold, health promotion, fatigue recovery etc.

Information on public hot springs (in Kinosaki Onsen) Okukinosaki Seaside Hotel operates a courtesy bus for exploring public hot springs in Kinosaki.
Enjoy the traditional atmosphere of Kinosaki hot spring town to your heart's content with its seven public hot springs as well as souvenir shops and game halls.
Hotel departure time

20:00

Kinosaki pick-up time

21:40
* Courtesy bus is out of service from July 1 to Augu 31 and November 1 to March 31.
* Fee required for each hot spring.



This 16.5 m2 Japanese-style room has an open-air bath. Forget the time as you soak in the water, as the gentle sound of the waves creates a relaxation you will experience only in Kinosaki. Guests in this room will enjoy magnificent views of sunrise and sunset, which is one of the benefits of staying at our hotel.
【Sea view room】16.5 ㎡ Japanese-style room + bath / toilet + open-air bath
【Occupancy】5 persons



Takenohama Beach, one of Japan's 100 best beaches. Banquet halls and open-air baths offer different ocean views according to the season.
Banquet halls

From large groups to small, we have banquet halls to suit the type of function and number of persons.
Large bath / open-air bath

The large bath offering seasonal views with the feeling of natural warmth of the trees will release your body and soul.
Karaoke room Space 80

The karaoke room is the ideal location for an after-dinner party. It is also available for private use.
[Opening hours] 17:00 to 22:00

Drop by the second floor and you'll find the spacious lobby where lots of guests can come to relax, and a shop that's ideal for picking up souvenirs.
Front desk / lobby

The entrance lobby with a tranquil atmosphere. The open and spacious area offers guests fine views of the Japan Sea and a distinctly unpretentious hospitality and comfort.
Cafe Arugu

Light meals and beverages like coffee and tea are served here.
[Opening hours]
7:30 to 20:00 (last orders at 19:00)
Souvenir shop

Various souvenirs like local sake and popular mackerel and crab sushi are on offer in the shop.
[Opening hours] 7:00 to 21:00

Guest rooms are mainly located on the second, the third and the fifth floor.
Relax in a Japanese atmosphere with views of Takenohama Beach.
Guest room floor

Guest rooms facing the sea offer delightful seasonal views of the Japan Sea.
Guests will be especially moved by the magnificent views from the guest rooms of sunrises and sunsets glittering on the sea horizon.