---

Facilities
1F First Floor

Takenohama Beach, one of Japan's 100 best beaches. Banquet halls and open-air baths offer different ocean views according to the season.

Banquet halls

From large groups to small, we have banquet halls to suit the type of function and number of persons.

Large bath / open-air bath

The large bath offering seasonal views with the feeling of natural warmth of the trees will release your body and soul.

Karaoke room Space 80

The karaoke room is the ideal location for an after-dinner party. It is also available for private use.
[Opening hours] 17:00 to 22:00

Conference room

This room can be used not only for business, but also for a wide variety of other situations.

Laundromat

-Dryer only: 100 yen / 30 min.
(Load up to 3 kg.)
-Washer only: 300 yen / 35 min.
(Load up to 6 kg.)

2F Second floor

Drop by the second floor and you'll find the spacious lobby where lots of guests can come to relax, and a shop that's ideal for picking up souvenirs.

Front desk / lobby

The entrance lobby with a tranquil atmosphere. The open and spacious area offers guests fine views of the Japan Sea and a distinctly unpretentious hospitality and comfort.

Cafe Arugu

Light meals and beverages like coffee and tea are served here.
[Opening hours]8:00 to 21:00

Souvenir shop

Various souvenirs like local sake and popular mackerel and crab sushi are on offer in the shop.
[Opening hours] 8:00 to 21:00

1-5F First to fifth floors

Guest rooms are located on floors one thru five.
Relax in a Japanese atmosphere with views of Takenohama Beach.
---
Facilities Overview
Check-in / Check-out

15:00 / 10:00

Number of guest rooms

48

Hotel services & amenities

Cafè
Banquet hall
Large bath
Souvenir shop
Shuttle bus service
Wake up call
Parking Lot

Karaoke room
Conference room
Open-air bath
Vending machine
Fax service
Courier service
Wi-Fi

Guest room amenities

T.V.
Hot water kettle
Refrigerator
Desk lamp
Body soap
Toothbrush set
Lotion
Disposable hair brush
Towel
Yukata
Safe box

Telephone
Tea set
Hair dryer
Washlet toilet
Shampoo / Conditioner
Facial cleanser
Facial lotion
Disposable razor
Bath towel
Slippers

Accessibility

Wheelchair accessible
Wheelchair rental
All toilets are Western style
Staff will assist when and were possible

*Please contact us in advance if you require special assistance so that we may help accommodate you.
Parking

Free guest parking, 50 spots

Cancellation policy

Cancellation fees:
Cancel 14~4 days prior to date of arrival: 10%
Cancel 3~2 days prior to date of arrival: 30%
Cancel 1 day prior to date of arrival: 50%
Day of arrival: 100%
No show: 100%

Credit cards accepted

VISA
American Express
UC
NICOS
Master Card
AEON
APLUS
LIFE
Debit card

JCB
Diner's Club
DC
OMC
UFJ Card
Saison
JACCS
CF
ORICO

Other information & important notices

Outside food, drink, and cooler boxes are not allowed to be brought in.

If you do not check in by 6 pm, we will treat it as a cancellation. Be sure to contact us if you will be checking in late.

There is a 150 yen per person bath tax. (Children under 12 years old are exempted.)
---

Rooms
Japanese-style room with open-air bath
Enjoy bathing, forget the time, and relax body and soul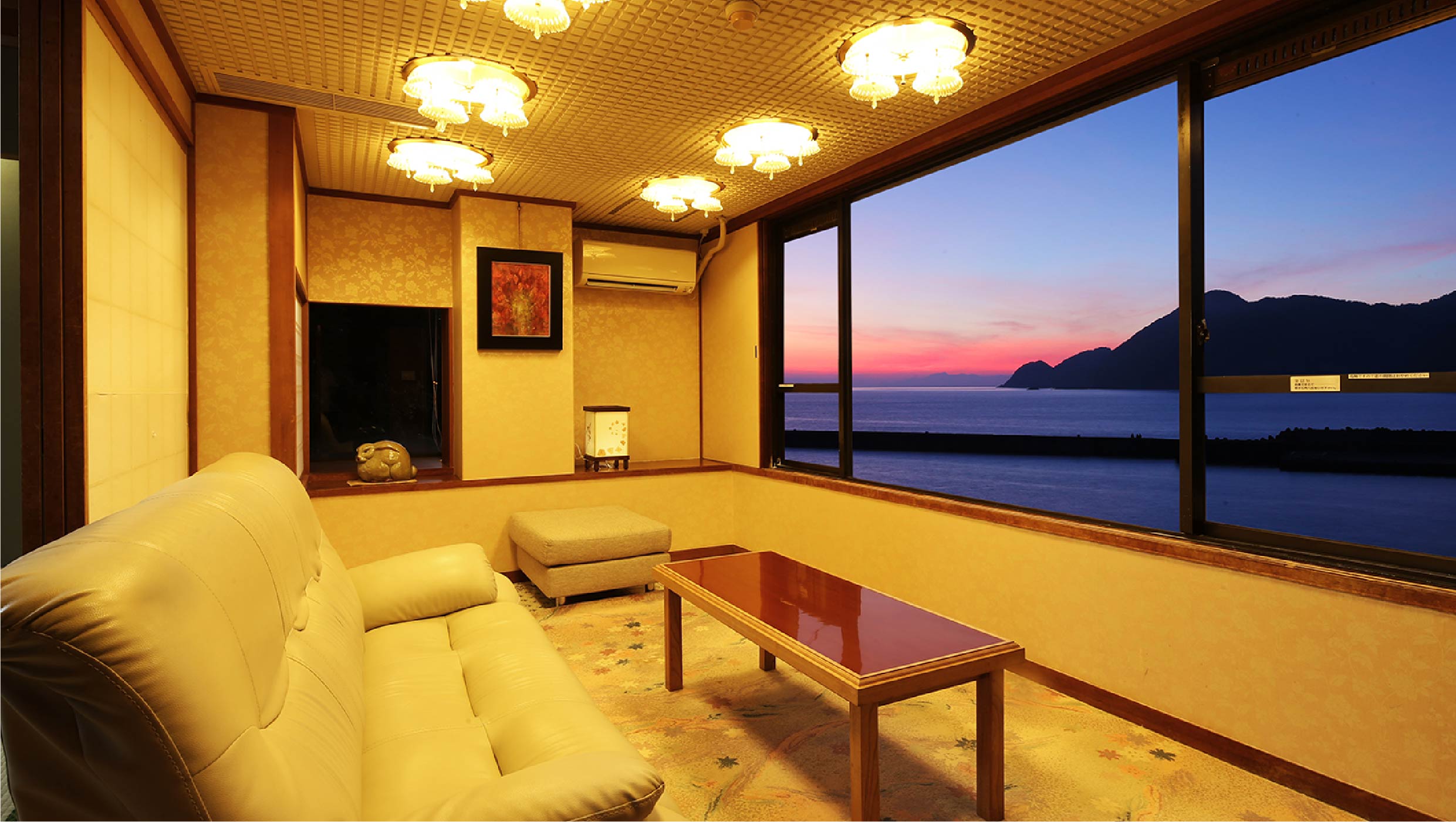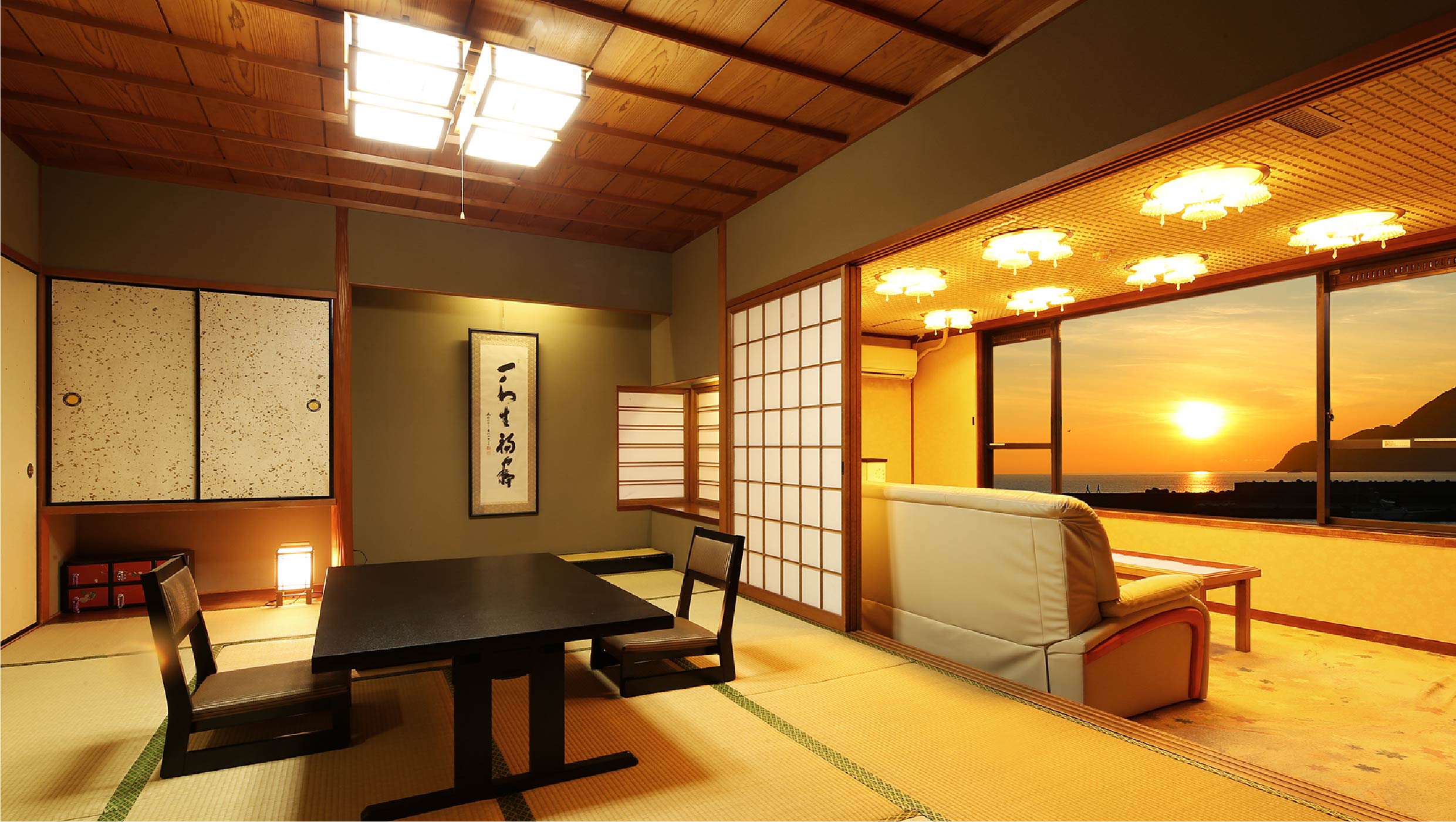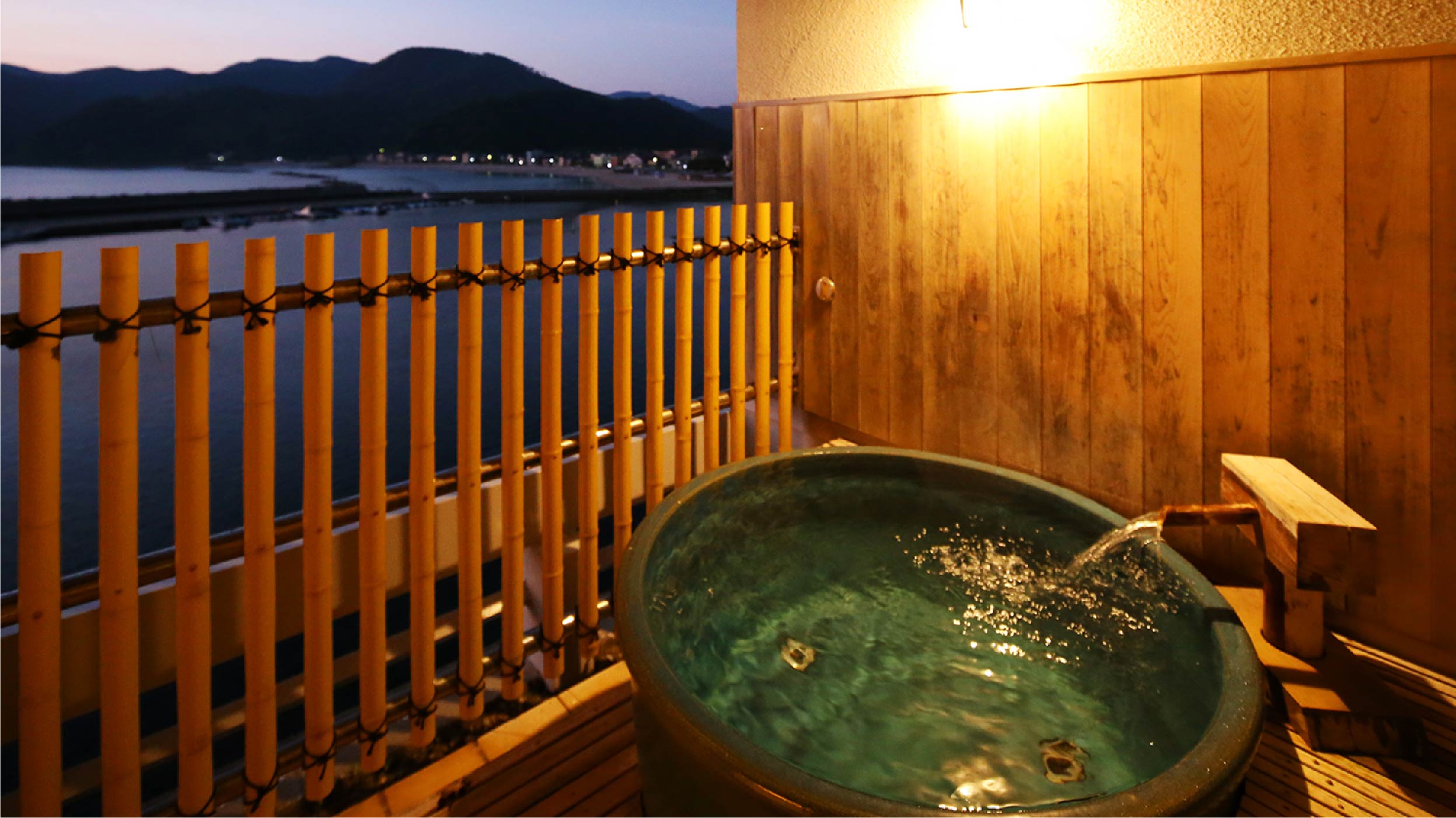 This 16.5 m2 Japanese-style room has an open-air bath. Forget the time as you soak in the water, as the gentle sound of the waves creates a relaxation you will experience only in Kinosaki. Guests in this room will enjoy magnificent views of sunrise and sunset, which is one of the benefits of staying at our hotel.
【Sea view room】16.5 ㎡ Japanese-style room + bath / toilet + open-air bath
【Occupancy】5 persons
---
SEA sideJapanese-Style Room

All 16.5 m2 sized rooms have guaranteed sea views. The Japan Sea spreading out in front of the window reflects the changes of the seasons. Have a pleasant time gazing at the glittering sea horizon.
【Sea view room】16.5 ㎡ Japanese-style room + bath / toilet
【Occupancy】5 persons

SEA sideJapanese-Style
Room Twin

This 13.2 m2 authentic Japanese-style room is just the right size to create an atmosphere of relaxation. Relax and unwind forgetting the time in a space that's silent but for the occasional sound of waves. This room is the nearest to the elevator.
【Sea view room】14.6 ㎡ Japanese-style room + bath / toilet
【Occupancy】4 persons

SEA sideJapanese-Style Room

A 16.5 m2 Japanese-style twin room with beds. A good night's sleep is guaranteed.
【Sea view room】16.5 ㎡ Japanese-style room + bath / toilet
【Occupancy】2 persons

MOUNTAIN
sideJapanese-Style Room

This room is popular among guests on solo and business trips. Guests will find their fatigue eased in this space that's undisturbed by others. The price is reasonable, since the room does not offer a sea view.
【Mountain view room】11 ㎡ Japanese-style room + bath / toilet
【Occupancy】2 persons

Cuisine
Enjoy the flavor of the Sea of Japan
unique to Okukinosaki Seaside Hotel
The area is known for its rich and delicious natural products, not only seafood but also rice and vegetables. Let us entertain you with creative seasonal cuisine that uses much of these local ingredients.
Freshly caught seafood is shipped in daily from the nearby fishing port, Takeno.
Below are just some of our recommended seasonal cuisine made with fresh ingredients that change with the seasons.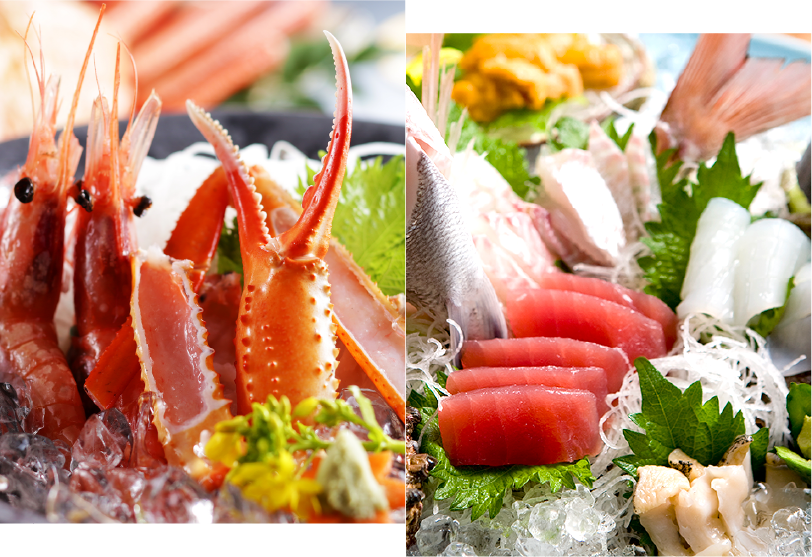 Spring & Autumn

Fresh seafood and Tajima wagyu beef

Fresh seafood is brought in directly from nearby Takeno fishing port. We also shop directly with local farmers to carefully select our ingredients.
You can also enjoy Tajima beef, a high-class local brand wagyu (Japanese black cattle) beef all year round.

Summer

Enjoy the fine flavor of the prized abalone

Abalone are said to be the "king" of shellfish. The abalone caught in the rough seas of the Sea of Japan are loaded with meat. After you experience its flavor and texture you will understand why it is considered a luxury.
In addition to trying abalone sashimi style, we also recommend trying teppanyaki (prepared on a hot plate) abalone with butter.

Winter

Finest snow crab and ingredients

Enjoy the area's premium brand snow crab, "Shibayama crab"; boiled, sashimi style, or grilled.
The volume and taste of this delicacy is undisputed.
---
Ingredients selected with care
Premium brand snow crab Shibayama Crab

No other crab is as popular among the Japanese as the snow crab.
It is familiarly known as "Matsuba crab" in the areas west of Kyoto, and "Echizen" crab in Fukui Prefecture.
"Shibayama" crab is also a kind of snow crab that has a delicate texture and irresistible flavor. Shibuyama crab is a premium brand reserved for crabs landed at Shibayama Port in Hyogo Prefecture.

Premium brand beef Tajima Beef

Long and widely known for its excellent pedigree, Tajima beef has been enhanced through closed breeding in the fertile natural land of Tajima.
Tajima calves are sent to other regions to be raised as brand beef of the respective region.

Tajima cattle have become famous as the origin of other premium beef brands, but Tajima beef refers only to cattle carefully raised to maturity in Tajima.

The harsh natural environment of Tajima produces the exquisite balance of nice tight meat and fine fat.
---

Spa
---
Large public bath

Bathing time

5:00〜10:00 15:00〜23:30

Beneficial effects

Neuralgia, arthralgia, frozen shoulder, poor circulation, health promotion, recovery from fatigue, etc.

Open-air bath

Spring quality

sodium-chloride spring with weak radioactivity (sodium, calcium), high tonicity
---

Access
Takeno-cho Takeno Tanjyounoura, Toyooka-shi, Hyogo 669-6201
TEL : +81-796-47-0666 / FAX : +81-796-47-1651